December 24, 2020
This Adorable Dog Unwrapping His Christmas Gift Early Is the Cutest Video You'll See Today
There's nothing better than a cozy Christmas gift, and one adorable dog couldn't wait until Christmas Day to unwrap his new bed. In a viral video, the sweet pup broke with protocol by chewing through the wrapping paper and jumping in the new bed without bothering to unwrap the rest.
What resulted was the cutest video we've ever seen. The owner approached the Christmas tree with their camera rolling only to find the small dog curled up in the partially unwrapped bed, his entire body and bed covered by wrapping paper. There's little doubt that the dog loved the present, even if he did jump the gun on unwrapping.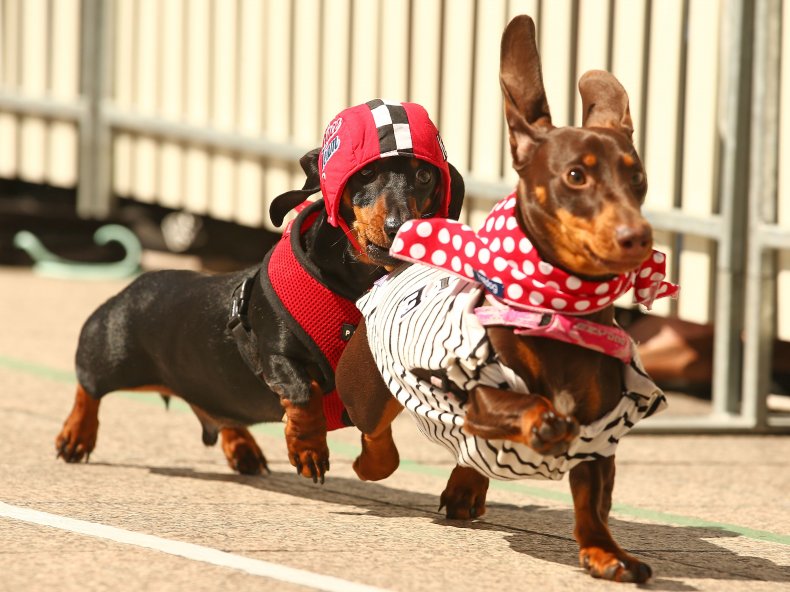 When the dog's mom lifted the wrapping paper to reveal the pup, his gray snout peeked out. He did look a little guilty as if questioning if he'd done something wrong by unwrapping the present on his own schedule. But the owner gently placed the wrapping paper back on the bed after exposing his hiding spot, allowing him to rest and enjoy his new favorite spot.
You can watch it all here. We already have 15 times.
The dog is a dachshund named Rocket, and we're fully obsessed with him after watching the video, which was shared on Facebook by WDSU News on Thursday, December 17. Over the past week, the video gained traction and has inspired viral conversations about the coziest dachshund around. But Rocket also has his own Facebook page where his followers get to see the best moments of his life. He has over 5,000 likes and a series of amazing photos and videos.
Most recently, Rocket was seen sporting the trendiest winter outfit we've ever imagined.
His viral video has brought joy to thousands. The WDSU video has over 44,000 likes. It makes sense: Rocket's secret spot under the Christmas tree could warm the heart of even the Grinch, we're certain. And comments on the video revealed we're not alone in this belief. The video's mentions were filled with digital laughter and heartfelt appreciation for dogs and the joy they bring not only their families but the Internet as a whole.
"Probably watched it being wrapped up! Or He is the present! Cute picture any way you look at it. Thanks for sharing. Merry Christmas!" wrote Facebook user Kathy Crawford. Janice Kenna commented on the smarts of the dachshund. "Always amazed me how dogs know which gifts are theirs."
Now, it's time for me to go buy my own dachshund a new bed for Christmas in hopes of a moment as memorable and adorable as Rocket's. From all of us at Newsweek, we wish you and your furry friends a happy holiday season.