January 21, 2021
C.A.R.E.4Paws earns congressional recognition for 'outstanding, invaluable' service | Local News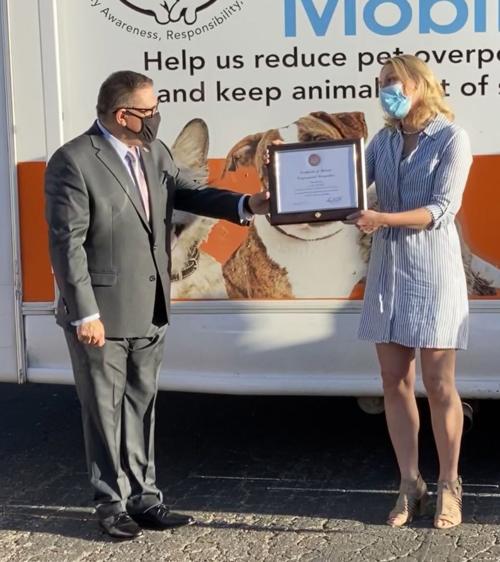 Santa Barbara County nonprofit C.A.R.E.4Paws was recently presented with a Certificate of Special Congressional Recognition for "outstanding and invaluable service to the community."
Rep. Salud Carbajal, D-Santa Barbara, presented the framed certificate to organization co-founders Isabelle Gullo and Carlos Abitia outside its mobile veterinary clinic set up Jan. 15 at the Santa Barbara Fraternal Order of Eagles.
Chris Harris, president of the C.A.R.E.4Paws board, and Kathryn Courain, the organization's treasurer, also were on hand for the presentation.
The award acknowledges the services C.A.R.E.4Paws has provided since it was founded in 2009 as well as its efforts to support pet owners during the COVID-19 pandemic.
Carbajal thanked the organization representatives for the "work you do, day in and day out, for our four-legged friends and pet owners and, in particular, those who have less means and need the extra support to be able to care for their pets."
"We all know that pets provide increased quality of life for anyone who is lucky enough to have a pet," he added. "What you do for our community is extraordinary. You do it graciously. You do it very generously and selflessly."
As the pandemic left more pet owners struggling to care for their animals, C.A.R.E.4Paws stepped up its efforts in March 2020 and since then has provided a record-number of services, Gullo said.
That included performing 2,000 free spay and neuter surgeries in the mobile clinic in 2020 compared to 1,300 surgeries in 2019 and providing low-cost and free veterinary care for 1,800 dogs and cats, an increase from 1,170 in 2019.